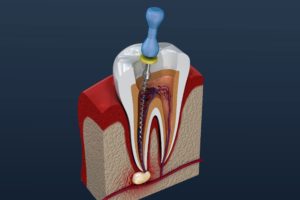 If you have a badly damaged or infected tooth, your dentist in Philadelphia may recommend root canal therapy to save it. Over 14 million root canals are performed annually because they have over a 95% success rate when used to preserve a tooth. Unfortunately, they have a bad reputation for being painful, but there isn't anything to fear. Your dentist uses the latest innovations in dentistry for a comfortable, stress-free treatment.

What is a Root Canal?
A root canal is an endodontic procedure used to extract the inner layer of the tooth, called the pulp. As a result, it's irreversible; however, it can save a compromised tooth from needing to be extracted.
Are Root Canals Painful?
Let's face it, we've all heard horror stories about painful root canal procedures. While this may have been true in the past, modern dental practices make the treatment virtually pain-free. In fact, one survey found 54% of patients didn't experience any discomfort. In addition, those who had pain classified its severity at a 1 using a VAS between 0 and 10. The procedure is far less painful than what you'll endure if you leave an acute infection in your tooth untreated.
To ensure you're comfortable, your dentist will use a local anesthetic. You might also be a candidate for sedation dentistry, like nitrous oxide. Your dentist will also use the latest dental instruments and techniques to minimize any potential for pain.
Do I Need a Root Canal?
Although root canal therapy is among the most common restorative procedures, it is only recommended when there aren't any other viable options to save a tooth from needing to be removed. You'll require an initial consultation with your dentist to ensure it's the right treatment for you, but you can expect to need the procedure if you experience:
Darkening of your tooth
Lingering tooth sensitivity
Severe toothache
Abscess near tooth
Pain when placing pressure on the tooth
What Can I Expect?
After you're comfortable, your dentist removes any areas of damage and extracts the inner layer of the tooth, carefully cleaning out the root chambers. Your tooth is sterilized before being sealed with a special material called gutta-percha.
A cap called a crown will be bonded over its surface to give it an extra layer of protection. It will also restore your tooth's function and appearance. Your restoration will be made of all-ceramic material to look just like a real tooth.
Don't Fear Your Dentist
If you've been waiting to have a root canal, it's not as scary as you might think. Your dentist will go the extra mile to ensure you're comfortable.
About Dr. Gary Henkel
Dr. Henkel earned his dental degree at the University of Detroit Mercy School of Dentistry. He has completed advanced training in various aspects of dental care, including a mastership from the Academy of General Dentistry. He has the experience and qualifications you can trust when needing root canal therapy in Philadelphia. Contact our office today to schedule an appointment.