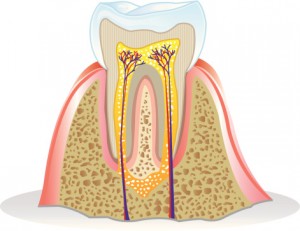 Sometimes, a root canal is the retort to an offer of something you really don't want—as in, "I want that like I want a root canal." But if you are experiencing the pain of severe tooth decay or an infected tooth, then the best choice may indeed be a root canal. Dr. Gary Henkel at Horsham Dental Elements in Philadelphia, PA, and Horsham, PA, is an expert in root canal therapy and uses state-of-the-art equipment to ensure that you receive the finest care possible.
What is Root Canal Therapy?
A root canal is the terminology used to describe the procedure used to save a badly decaying or infected tooth. During a root canal, Dr. Henkel—who lectures on endodontics and provides consulting services to three endodontic supply manufacturers or suppliers—removes the nerve, blood and soft tissue inside the canal. Then, the canal is thoroughly cleaned of decay and debris, and finally Dr. Henkel fills the canal to prevent further decay. Throughout the procedure, Dr. Henkel uses a surgical microscope for magnification and the best visibility possible during your root canal.
When is Root Canal Therapy Necessary?
Well first of all, if you are experiencing the pain of a severely decayed or infected tooth, a root canal will eliminate that pain. Secondly, the bacteria that causes the decay and infection can spread beyond the root of the tooth, bringing about an abscess. Although there are instances when no symptoms are present, some of the signs that may signal the need for a root canal include:
Extreme tooth pain when chewing
Sensitivity to hot or cold
A darkening color of the tooth
Swelling of the gums around the tooth
With proper general dentistry care, a root canal may be avoidable. If one is necessary, however, rapid attention is required to head off further trouble, such as gum disease or the spread of bacteria throughout the body.
Call Our Office Today
If you suspect that you may need root canal therapy, schedule an appoint today with Dr. Gary Henkel at Horsham Dental Elements in Philadelphia, PA, or Horsham, PA. Our offices also serve patients in surrounding Bucks county and Montgomery county, as well as Hatboro, Springfield and Dresher.