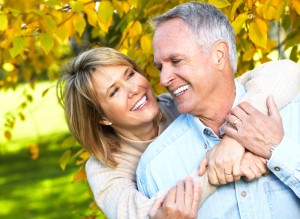 A healthy, beautiful smile is a crucial asset when it comes to expressing yourself confidently on a daily basis. If your teeth are flawed in any way – whether it be in the form of stains, uneven spacing or chips – you may feel less inclined to smile around friends, family and coworkers. At Horsham Dental Elements in Philadelphia and Horsham, PA, Dr. Gary Henkel offers the latest in porcelain veneers, allowing patients who are unhappy with the condition of their teeth to once again enjoy a brilliant smile that's worth showing off to the world.
What are Veneers and How Do They Help?
Porcelain veneers are ultra-thin layers of porcelain material that are applied directly to the surface of your teeth, custom-fit to cover the many cosmetic imperfections that may cause embarrassment. Teeth that have been stained over the years with wine, coffee or cigarette smoke become instantly lustrous and white. Odd gaps between the teeth disappear, replaced instead by even teeth that align perfectly. Porcelain veneers are a simple solution to a number of common cosmetic problems, including:
Teeth that are too small or are misshapen

Crooked teeth

Staining of all levels and colors

Gaps between teeth

Chips and cracks
If you've endured years of unhappiness, constantly hiding your smile, take the first step toward beautiful, natural-looking teeth and call us today to schedule your porcelain veneers consultation. In just two office visits, Dr. Henkel can reverse decades of damage, revealing the brilliant, confident smile you deserve. From our two offices in Horsham and Philadelphia, we proudly serve patients from the entire Philadelphia PA area and beyond, including Bucks County and Montgomery County.