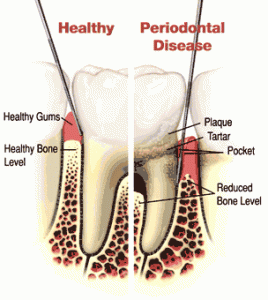 Did you know that three out of four Americans today suffer from some level of gum disease? That's a large number, and one that we take seriously here at Horsham Dental Elements. While gum disease (also referred to as periodontal disease) exhibits few symptoms in its earliest stages, it can become serious over time, resulting in pain, inflammation, bone deterioration, and even tooth loss. Research has shown that gum disease can even contribute to conditions such as cardiovascular disease, strokes, and diabetes. At his Horsham and Philadelphia dental offices, Dr. Henkel wants to help you keep your smile healthy and happy over the years, and that includes ensuring that you're protected against the threat of gum disease. Here are some common symptoms you can look for at home:
Red, swollen, and/or tender gums
Persistent bad breath that isn't helped by mouthwash
Gums that bleed while brushing or flossing
A sudden change in the way your bite feels
Loose or wobbly teeth
Receding gums (the appearance of teeth that looks longer)
Of course, it's important to remember that many cases of gum disease show no symptoms at all until they reach more advanced, destructive stages. That's why attending regular check-ups with Dr. Henkel is so important!  Our team will be able to find trickier signs of the disease and treat them earlier, saving you precious time and money. Using a soft-tissue laser, Dr. Henkel can perform periodontal therapy with greater comfort and ease than ever before!
Contact either our Horsham or Philadelphia office today to learn more about gum disease and periodontal therapy, or if you're ready to schedule an appointment. Dr. Henkel and his team are committed to providing patients with personalized care that puts their needs first. We also serve the areas of Montgomery, Buck County, and beyond!