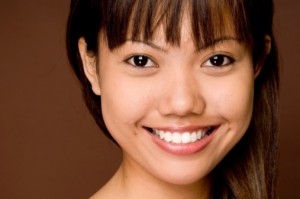 Do you smile easily or do you often find yourself covering your smile with your hand? Well then why not just hide that smile permanently? Porcelain veneers are a cosmetic treatment that cover smile imperfections and give you a beautiful new smile. Using porcelain veneers, Dr. Gary Henkel at Horsham Dental Elements in Philadelphia, PA, and Horsham, PA, has improved smiles for many people in the area, and he can do the same for you.
What are Porcelain Veneers?
Porcelain veneers, also called dental veneers, are a type of cosmetic dentistry in which a micro-thin layer of dental porcelain is bonded to the outer surface of the teeth in your smile zone. As such, they correct and conceal a number of dental imperfections, including:
Stains and discoloration that will not respond to teeth whitening
Chipped or slightly cracked teeth
Teeth that are unevenly worn
Teeth that are misshaped or somewhat misaligned
How are Porcelain Veneers Applied?
The first step in building your new smile is a consultation with Dr. Henkel, where the two of you will discuss your smile goals and he will examine your teeth and gums for any concerns that might need to be addressed before the veneers. Then the procedure usually requires two appointments at Horsham Dental Elements.
At the first appointment, Dr. Henkel will likely need to slightly reshape the teeth receiving the veneers, so your new smile will blend seamlessly with your existing teeth. An impression of your teeth is taken in order to create a mold for our dental lab to use as they fabricate your custom veneers. While your permanent porcelain veneers are made, you'll wear temporaries to protect your teeth. In a few weeks, you'll return to Horsham Dental Elements for Dr. Henkel to place your custom veneers. You'll leave our office with a smile you wouldn't dream of covering!
Schedule an Appointment Today
If you'd like to learn more about how porcelain veneers can give you a new smile, then call Horsham Dental Elements in Philadelphia, PA, or Horsham, PA. We also conveniently serve people from Dresher, Springfield and Hatboro, as well as Bucks County and Montgomery County.