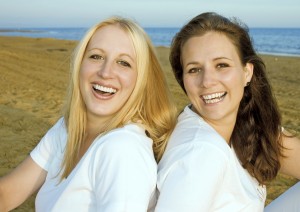 While Dr. Henkel and his dedicated dental staff believe strongly that optimal oral health should come first, they also understand that many patients are interested in having a more beautiful smile as well. After all, it's not hard to understand why – white, straight teeth can imply all sorts of positive attributes about you to your peers and coworkers, including confidence, attractiveness, youth, vitality, and much more. Our team at Horsham Dental Elements in Horsham and Philadelphia would be more than happy to help you achieve this dream with the help of multiple cosmetic dentistry options designed to rejuvenate smiles and help them shine again! We offer:
Both in-office and take-home teeth whitening to accommodate busy schedules
Cosmetic bonding to reshape broken or worn-down teeth
Porcelain veneers to cover your teeth and give them a straighter, whiter, and healthier appearance
Invisalign to quickly and seamlessly realign crooked teeth
Additionally, several of our restorative dentistry procedures have valuable cosmetic benefits, such as dental implants, which seamlessly fill unsightly gaps in your smile with beautiful, durable replacements, porcelain crowns, and tooth-colored fillings. Rest assured that we'll take every precaution to ensure that any work you receive at our offices is both durable and natural-looking, giving you a look that you can feel proud of for years to come!
Contact either our Horsham or Philadelphia office if you'd like to learn more about we can turn your smile into a stunner, or if you're ready to go ahead and schedule an appointment. Dr. Henkel is well-known for his thorough, compassionate care that delivers excellent results and sends patients off with a new reason to smile. We're also happy to serve the areas of Montgomery, Buck County, and beyond.