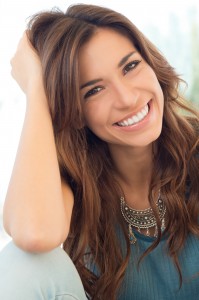 The eyes and the mouth – these are the first two features that we subconsciously notice when we meet someone for the first time. What do people see when they look at your smile? If your teeth are stained yellow with age and exposure to food, drinks or smoke, your smile could be making your entire face appear years older than you actually are. At Horsham Dental Elements in Philadelphia and Horsham, PA, Dr. Gary Henkel offers professional whitening services that help people just like you regain the youth and brilliance of a sparkling smile.
Teeth Whitening Options
Despite their claims, the over-the-counter white strips you can find at your local drug store are not capable of delivering high-quality, long-lasting results. Most only whiten teeth to approximately 1.5 to 2 shades and the outcome is far from optimal. With professional teeth whitening treatments at Horshom Dental Elements, patients receive services backed by the latest technology in the cosmetic dentistry industry.
The whitening procedures that Dr. Henkel performs put the patient's comfort and ideal outcome first. The process is simple, relaxing, safe and proven effective. In fact, most patients experience a whitening effect of between four and eight shades instantly.
Depending on your individual level of staining, you may be a candidate for a take-home whitening treatment, professionally dispensed by Dr. Henkel and his staff. A custom-fit tray is tailored to your teeth for optimal results and you simply apply the solution to your teeth at home as directed.
Reclaim Your Smile
Don't let yellowed teeth make you look older than you really are for another day. Contact us now to find out how quickly Dr. Henkel can turn back the clock on your smile, giving you the bright, beautiful pearly whites you've always wanted. We proudly serve patients from throughout Montgomery County, Bucks County and from across the Philadelphia area.