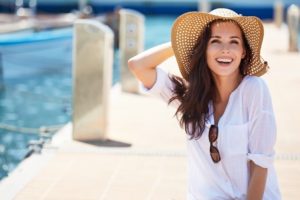 After years of feeling dissatisfied with your appearance, are you ready to rejuvenate your smile for summer? If imperfect teeth have left you feeling insecure about your looks, you can revamp your confidence in as little as two appointments with porcelain veneers in Philadelphia. Your cosmetic dentist will cover the flaws with a long-lasting solution that looks natural. Not convinced? Here are the top 6 reasons why you should choose veneers for your new smile.

1. Improve the Size and Shape of Your Teeth
The size, shape, and proportion of your teeth play an important role in creating a balanced smile. If you have been told that you have a gummy smile, or you have abnormally shaped teeth, porcelain veneers can help. They will be created to meet your exact size and shape needs to enhance the aesthetics of your teeth.
2. Fix Chips or Cracks
Minor chips and cracks can often be corrected with porcelain veneers. By attaching the thin shells to the front surfaces of your teeth, you will hide the flaws while also protecting them from future damage.
3. Close Gaps Without Braces
In some cases, your cosmetic dentist in Philadelphia can use veneers to close gaps between your teeth and cover small alignment issues without the need for braces. In as little as two appointments, you will have the straight smile that you have always wanted without having to spend months wearing braces.
4. Get a Bright, White Smile
If tooth discoloration has left your smile looking aged and dull, you can cover the stains with veneers. When professional whitening treatments are not enough, porcelain veneers can help. Your teeth will instantly become whiter with results that last. Porcelain is stain-resistant, so you will never have to worry about your teeth darkening over time.
5. Get Natural-Looking Results
Porcelain closely mimics the appearance of enamel. As a result, your new smile will look natural, so no one will be able to tell that they are in place.
6. Choose a Minimally Invasive Solution
When compared to veneers made from other materials, porcelain allows them to be thinner. As a result, less of your tooth's structure is removed during the bonding process. This makes the procedure minimally invasive and virtually pain-free.
Revamp Your Smile for Summer
If you are ready to get the smile of your dreams this summer, porcelain veneers can help. In as little as two appointments, you will improve the appearance of your teeth with a solution that can last for 5 to 10 years before needing to be replaced.
Stop feeling insecure about your teeth. Get a smile makeover today with your cosmetic dentist.
About Dr. Gary Henkel
Dr. Gary Henkel is the area's premier choice for general and cosmetic dentistry. Due to his extensive qualifications, he offers an array of advanced treatments, including porcelain veneers. He will create the customized treatment plan you need to rejuvenate your smile. Contact Horsham Dental Elements today to see if porcelain veneers are right for you.