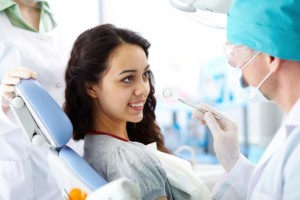 Gum disease, also known as periodontal disease, is the leading cause of tooth loss in American adults. Research has also revealed a link between untreated periodontal disease and a lengthy list of systemic health conditions, including heart disease and some forms of cancer. At Horsham Dental Elements in Philadelphia, PA and Horsham, PA, Dr. Gary Henkel and his dedicated team are committed to helping patients with gum disease protect themselves from dangerous complications with laser periodontal therapy.
Advantages of Laser Periodontal Therapy
When a patient's gums are infected, the immune system goes into overdrive, sending antibodies to the source of the excessive bacteria in the tissue. Inflammatory mediators and toxins are released into the blood stream, wreaking havoc on other tissues and organs throughout the body. Periodontal disease must be treated with specialized therapy; regular brushing and flossing will not mitigate the effects of the infection once it has taken hold. With laser periodontal therapy, Dr. Henkel can effectively halt the disease before it leads to even more complex issues, including tooth loss and deterioration of bone tissue in the jaw.
While traditional periodontal surgery involves the use of a scalpel to remove infected tissue, laser periodontal therapy efficiently eradicates the infection in a way that does not require cutting or the use of sutures. The laser cauterizes the treated area immediately; this makes the procedure not only more effective, but also substantially more comfortable for the patient. At Horsham Dental Elements, our goal is to help you achieve optimal oral health in a way that suits your lifestyle and fulfills your unique needs. If you or someone in your family is suffering from the common symptoms of gum disease – including bleeding, redness, and swelling – we genuinely want to help.
Care for Your Smile; Protect Your Health
Reduce your risk of developing serious health problems – including high blood pressure, diabetes, pregnancy complications, heart disease, blood and pancreatic cancer, and respiratory illnesses – by scheduling your laser periodontal therapy visit today. Our offices in Horsham, PA and Philadelphia, PA warmly welcome families from throughout surrounding areas in Bucks County and Montgomery County, including Springfield, Hatboro, Dresher, and beyond. Contact us today to learn more and to reserve your visit with Dr. Henkel.