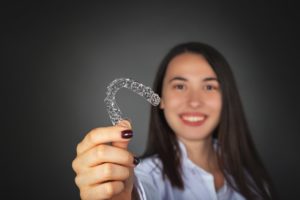 If you missed your chance at braces during adolescence or you've experienced orthodontic regression, it's not too late to get a straight smile. If you're like most people, you don't want to spend several years wearing braces to get the results you want. You can streamline the process using clear aligners. Invisalign in Philadelphia is the quickest method to correct bite and alignment concerns, but how long will your treatment take? Here's what you need to know while on your journey to a complete smile.

How Long Does Invisalign Take?
Nowadays, there are more options than ever to fix bite and alignment issues. As an alternative to traditional braces, many people are turning to Invisalign. A series of clear aligners are worn over the teeth, applying consistent pressure to gradually move them into position. Since brackets and wires aren't necessary, Invisalign offers exceptional benefits over other options, like a quicker treatment process.
On average, most patients are finished with their series of aligners in about 12 months, instead of 2 to 4 years like metal braces. Although everyone's plan differs, you'll enjoy a quick treatment with less discomfort, so time will pass quickly while on your journey to a straight smile.
What Factors Influence the Duration of Treatment?
No two treatment plans are the same. As a result, the duration of your treatment will vary based on your specific needs. There are various factors that determine how long you'll need to wear the aligners, such as:
Age: Teens are still growing and developing, which makes it easier to move the teeth; therefore, their treatment plans are generally shorter than that of an adult.
Complexity of Case: If you have significant bite and alignment issues, it will require more aligners to move your teeth. You'll change them weekly, so you can expect your treatment to take longer than a patient who only needs to make minor adjustments.
Patient Compliance: Although your aligners are removable, you'll need to commit to wearing them for at least 22 hours per week and switching to the next one on time. If you don't follow your treatment correctly, including switching to a new aligner too soon, it can add timely delays to your plan.
How Can I Get Started?
If you're ready to invest in the fastest orthodontic treatment, it's time to take your first step by scheduling your consultation. Your dentist in Philadelphia will evaluate your needs and discuss your desired results to create a customized treatment plan. They will take the time to explain what you can expect and how long your treatment will last. In no time at all, you'll have a straight smile you'll be proud to show off.
About Dr. Gary Henkel
Dr. Gary Henkel has provided comprehensive dental care to the community since 1981. He has completed over 2,500 hours of continuing education to provide many areas of specialty, like orthodontics. If you're interested in Invisalign, he can create the personalized plan you need. Contact our office today to schedule your consultation.