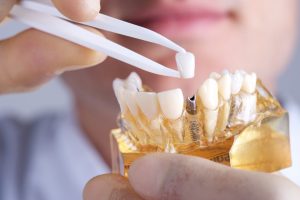 If you've done any research on the best ways to replace missing teeth, you've probably come across various options like dentures, crowns, and probably even bridges. The best way to replace teeth is with dental implants in Philadelphia at Horsham Dental Elements. We combine advanced technology, compassion, our dental expertise to create custom tooth replacements for patients that really need them. We're here to help you understand the dental implant process and get a better idea of whether you're an ideal candidate.
All About Dental Implants
Many people may default to other tooth replacement options after reading about the extensive process dental implants usually take to be installed and healed. These other restorative options are great, but they only focus on replacing the visible parts of your tooth, or the crown. Did you know that vital parts of your smile reside below your gum line? Your tooth root stimulates your jawbone, which helps to keep your jawbone healthy and strong enough to support the rest of your teeth. Thankfully, dental implants replicate the entire structure of a tooth, preserving and encouraging the growth of new bone tissue. And an extra bonus: we complete the whole procedure within our one dental practice!
The Dental Implant Process
Once you have met with one of our dentists and agreed that dental implants are the right choice for you, the first phase is the surgical placement of your implant posts within the jawbone. This sounds intimidating, but you can be confident in the skill set Dr. Gary Henkel holds in implant dentistry (he even teaches other dentists about this subspecialty!). You will be pleasantly sedated to make this surgical portion practically painless. Dr. Henkel even uses cone beam computed tomography (CBCT) to create 3D images that allow him to virtually place the implant before moving forward surgically. This helps to ensure accuracy, a shortened procedure time, and makes the surgery less invasive.
Once your implants have been placed, your jawbone and gums will naturally fuse to your implant, mimicking the original lost tooth root. After your body has adjusted, you will return to our office to attach the replacement teeth, completing the dental implant process.
Viable Candidates for Dental Implants
If you're interested in dental implants, it's important to consider if you're health and lifestyle will be fitting for this dental procedure. Usually we can help you get a better understanding during your consultation with Dr. Henkel, but here are a few things to turn over in your head before moving forward with dental implants:
Healthy, pink gums
Enough bone density to anchor the implants in the jaw (if you don't, there are bone-grafting procedures that may be completed to help improve your jawbone's strength).
Dedication to good oral health and hygiene both at home and by keeping regular dental appointments with your dentist in Philadelphia.
Patients That May Need to Consider Another Replacement Option.
Some people may not be good candidates for implants if they are:
Young because their mouths haven't stopped growing, shifting, and developing.
Currently pregnant.
Tobacco users (quitting is the best way to prepare you for dental implants and improve your health).
Alcohol or substance abusers.
People who have received high-dose radiation treatment of the head or neck.
People with chronic diseases or systemic problems, including:

Uncontrolled diabetes
Connective-tissue diseases
Hemophilia
Significant immune system deficiencies
Contact Horsham Dental Elements
The best way to determine whether you are a suitable candidate for our modern dental implants is to schedule a consultation. There are ways to improve your health before this dental procedure and Dr. Henkel would be happy to help you prep for a new smile. Contact us to schedule the next available appointment.