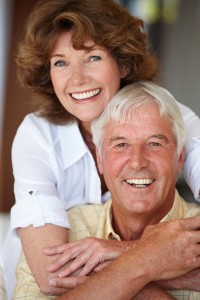 When it comes to replacing missing teeth, dental implants are a relatively new solution to a very old problem. They're a highly successful method of replacing the tooth and its root — and one that simply wasn't available to us several decades ago. And let me tell you, dental implants have improved greatly since their initial debut. What was once a highly painful and expensive solution to missing teeth is now a realistic option for just about anyone. Learn more about the placement and restoration of dental implants from Dr. Henkel, your dentist in Horsham today.
Dental Implants Provide Stability
Compared to other tooth replacement options — like non-implant supported dentures, crowns and bridges — dental implants provide a stable base for a healthy, beautiful smile. They do that by replacing not just the tooth, but also its root — the part that provides stability and keeps your jawbone from deteriorating. Dental implants are the closest thing we have to a whole natural tooth replacement, and they come remarkably close.
Dental Implants: The Placement
Made of sturdy titanium, dental implants are tiny posts that Dr. Henkel surgically places (or implants) into your gums. He does this by using cone beam computed tomography, or CBCT, to create 3D images as a guide. Computer simulation with CBCT leads to greater accuracy during placement, shortened procedure time and makes for a less invasive surgery overall.
Once your dental implants have been placed, your jawbone will need from three to six months to heal. It seems like a long time, but you'll be fitted with a temporary tooth replacement to wear until osseointegration has taken place — meaning until your jawbone has completely fused with the implant for the ultimate in stability.
Dental Implants: The Restoration
Once your implants have fused with the jawbone, you're ready for the final step in the process. It's the most exciting step, too!
The tooth restoration process depends on what exactly you're getting — the process for placing an implant-supported denture is a little different from a single tooth replacement, for example. The basics are the same, though. In the restoration phase, your dentist will place an abutment on each dental implant — meaning the extension of the metal implant post. This abutment will support your new tooth replacement. After this stage is complete, you'll have your new natural-looking, beautiful smile — something we know you'll be proud to flaunt.
Schedule Your Appointment Today
If you think dental implants in Horsham are a good solution for you (and we're pretty sure they are, too), don't hesitate to request your appointment with Dr. Henkel today. We have two convenient locations, one in Horsham and the other in Philadelphia, to better serve you. What are you waiting for?