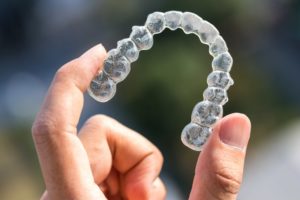 You're finally doing it! You're going to straighten your teeth, and what's more, you've chosen to do it with Invisalign—a proven, discreet, and efficient solution. During this treatment, you'll get to continue eating your favorite foods, easily maintain your oral care, and achieve the final results much faster than with traditional braces. Invisalign seems like the perfect answer, but before you start, you should be aware that you could experience some discomfort, especially at first. After all, your teeth and gums aren't used to having aligners on them, and these trays do apply force, albeit gentle, to your teeth to guide them into a new position. Here are five tips to help you alleviate your discomfort and stay on track for your straightening treatment.
Resist the Urge to Take Them Out
When something bothers you, your first instinct is to remove it. But in the case of Invisalign, your clear aligners need to be in place for between 20 and 22 hours every day to be effective. Taking them out more frequently or for prolonged periods of time will only extend or complicate your treatment. To fight the inclination to remove them because of discomfort, think about how amazing the final results will look.
Give It Time
Just like with a new pair of shoes, you just need a little bit of time to become accustomed to how your trays feel. Although the feeling of plastic on your teeth may feel strange initially for your gums and tongue, you'll eventually get used to it. Also, as you switch to a new set of trays, you can have some mild soreness, but it should go away within a couple of days. Be patient when this happens, knowing that it won't last forever.
Take Painkillers
If you need some extra help making it through those rough transition days, you can take mild painkillers, especially those that help with the minor inflammation or irritation that can happen in the first few days of switching to the next set of aligners.
Eat Soft Foods
When your teeth feel sore, you can reduce the pressure they endure by choosing to eat softer foods during those transition days. This doesn't mean that you have to be a on a liquid diet, but you can avoid chips or crunchy foods for a couple of days to make it a little easier on yourself.
Talk to Your Dentist
If your Invisalign aligners actually cause you pain because of sharp or rough edges on your aligners, then something is amiss with the tray. Contact your dentist right away, for example, if your tongue is cut by an edge of one of your trays. They can resolve the problem and make them feel more comfortable.
In the end, your straight teeth will worth the time and effort you invest in Invisalign treatment. Within 18 months—before you know it—you can achieve the results and rewards you're looking for. By following these tips, you can bring yourself the relief you need and make treatment easier along the way. For more tips on how to handle discomfort, contact your dentist.
About the Author
Dr. Gary Henkel has almost 40 years of experience in the dental field. Over the course of his career, he has earned his mastership from the Academy of General Dentistry and has participated in over 2,500 hours of continuing education. Every year, he adds 100 hours to that total. In addition to his national and international lecturing engagements, he was involved with developing the iTero digital scanning system, which he uses in Invisalign treatment. To schedule an appointment with him, call or click here.