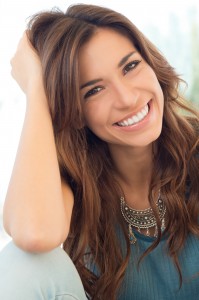 "Say cheese!" If those two words don't bring a smile to your face instantly, well then maybe there's something about your smile that you don't like. If the color of your teeth is bothering you, then we have a simple and affordable solution. With either in-office or take-home teeth whitening in Horsham, Dr. Henkel and his team at Horsham Dental Elements can give you the sparkling smile you deserve.
What Causes Tooth Discoloration?
Most of the things that cause your smile to yellow and darken are in your pantry, your refrigerator and on your kitchen counter. That morning cup of coffee or tea contains dark pigments that can become trapped in the microscopic grooves of your tooth enamel. Although tooth enamel is naturally white thanks to its calcium content, coffee and tea stains can eventually take a toll on the color of your smile. Similarly, red wine, grape juice, colas, sports drinks, tomato sauce, strawberries and carrots are just a few of the tasty treats that can stain your teeth.
Other things that can contribute to a less-than-white smile are:
Tobacco use
Teeth grinding and clenching, which can darken the biting edges of your teeth
Over ingestion of fluoride during childhood
Injury that causes internal tooth bleeding and discoloration
Micro-cracks in your teeth that hide stains and tiny particles of food
Some medications, such as the antibiotic tetracycline or certain forms of chemotherapy
Horsham Teeth Whitening
At Horsham Dental Elements, Dr. Henkel offers two different methods to whiten your smile. If you need your smile to look its best for a special occasion—or it you just can't wait to have whiter teeth—then there is our in-office whitening system. This treatment takes about one hour to complete, and then you'll have a smile that is several shades whiter than when you walked into our office.
While you relax in the examination chair, one of our dental assistants will isolate your teeth with a rubber dam and then carefully apply the professional grade bleaching gel. This solution quickly goes to work to lift stains from the enamel surfaces of your teeth and to penetrate your tooth structure to remove stains that are below the surface.
On the other hand, if you prefer to whiten your teeth on your own schedule and in your own home, then we have a take home whitening system, too. We'll take an impression of your teeth in order to fabricate custom-fitted mouth trays. Then every night for a couple of weeks, you just fill the trays with the powerful whitening solution we provide and wear the trays according to Dr. Henkel's instructions. With either treatment, that gorgeous white smile will be yours!
For Teeth Whitening in Horsham, Call Our Office Today
If you're ready to smile when you hear, "Say cheese!" then contact Horsham Dental Elements to schedule your appointment for teeth whitening.