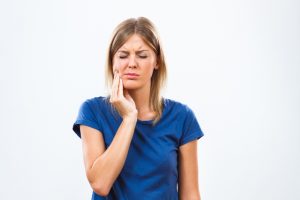 It starts as the slightest twinge when you drink your cold beverage or enjoy your favorite dessert, which is ice cream. You don't think twice because it goes away. Next you notice that your tooth has a dull ache, but not to worry, Ibuprofen does the trick! The next thing you know, you find yourself waking up to a severe toothache. You begin to wonder, do I need a root canal in Horsham?
What is a Root Canal?
When the root, or pulp of your tooth becomes injured or infected, you'll need root canal therapy to clean out the damaged tissue. This is done through a small access in your tooth that Dr. Gary Henkel will seal with a temporary filling once the infection is gone. Your tooth will be given time to heal and then you'll need to strengthen it again with a permanent filling or crown.
Does Root Canal Therapy Hurt?
Root canals are widely misunderstood because most people associate them with pain. Did you know however, that it's not root canal therapy that causes your pain, but rather the infection? A root canal is actually relieving your pain. It's true!
Dental anesthetics will ensure that you don't feel anything during your procedure, and antibiotics may be used to combat any remaining infection in your tooth. Root canal therapy will have you feeling back to normal and on the path to wellness again in no time.
Prevention is the Key
Did you know that a root canal in Horsham could actually be prevented in some cases? Remember that slight twinge you were feeling? That would've been the time to schedule your checkup appointment and have Dr. Henkel look at your tooth. He can detect decay in its earliest stages, and if you had caught it at that time, a less invasive dental filling might have been all the treatment you needed.
It's important to note that once your tooth is infected, you'll need to have it treated right away. Dental infection doesn't go away on its own, in fact, it puts you at risk for tooth loss and more infection. Always be proactive about your oral health and contact us right away if you're experiencing dental pain or sensitivity.
Dr. Henkel has been providing high quality dental care to PA patients for over twenty five years, and you can rest assured that if your tooth is need of treatment or repair, you'll be in expert hands when you work with him. Contact our office right away if you find yourself experiencing dental pain.