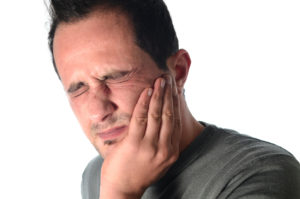 It started as a dull pain that you could ignore, but over the past couple of weeks, your toothache has become more and more unbearable. The last thing you want to do is make an unnecessary trip to a packed grocery store for medicine right now, so utilizing some at-home remedies until you can visit your dentist is the best option. Here are 5 ways to use items you already have in your home to treat your toothache during COVID-19.

5 Effective At-Home Toothache Remedies
Whether you are experiencing sharp, jabbing pain or relentless throbbing, toothaches can seriously impact your quality of life until they are fixed. A few months ago, a quick trip to the store wasn't the chore it is now, so it is important to know how to use the items you do have in your home to relieve the pain and avoid the hassle. Here are 5 remedies to try:
Salt water – This at-home toothache reliever only requires two ingredients – salt and water! Start by bringing a cup of water to a boil. From there, add a teaspoon of salt and allow it to dissolve. Swish the mixture around in your mouth for 30 seconds before spitting it out. This remedy will extract some of the excess fluid that causes swelling while also cleaning the area of bad bacteria.
Ice – Applying ice to the tooth, gum, or cheek can quickly relieve tooth pain. The ice causes the blood vessels to restrict, which results in the pain, swelling, and inflammation decreasing. Ice the area until the pain subsides and repeat as needed.
Ginger and cayenne – Each of these spices alone is known for their pain-relieving capabilities, and when combined with a bit of water they become a powerful duo. To use this at-home remedy, simply douse a small cotton ball into the paste so that it is completely covered. Next, avoiding your gums and tongue, place the cotton ball on your tooth.
Garlic – Whether you love or hate the taste, there is no denying the medicinal properties found in garlic. In addition to effectively killing the bacteria that cause dental plaque, garlic can also be crushed into a paste and used as a pain reliever.
Hydrogen peroxide – In cases where a toothache is accompanied by high temperature and a foul taste in the mouth, it could be a result of an infection. Until you can see your dentist, try swishing some 3% hydrogen peroxide solution in your mouth for a few seconds. This will kill the bacteria and provide some relief from the discomfort. Make sure not to swallow any of the solution. Instead, spit it out and rinse with plain water afterward.
Do I Still Have to See my Dentist?
While effective and convenient, these at-home remedies are designed to provide short-term relief until you can visit your dentist. They are in no way a substitution for quality dental care from the professionals. If your toothache pain does not subside or you experience anything abnormal (i.e. excessive bleeding, tooth loss), then schedule an emergency visit to your dentist immediately.
When your tooth is in pain and a trip to the store is out of the question, at-home remedies can be a lifesaver. Just make sure to call your dentist for long-term solutions to fix the root of the problem!
About Horsham Dental Elements
For over two decades, Dr. Gary Henkel and his team at Horsham Dental Elements have provided cutting edge dental care to the Philadelphia area. With an emphasis on state-of-the-art dental care, Horsham Dental Elements is in the top 1% of practices that use the operating microscope to diagnose even the most difficult dental health issues. If you have questions about what could be causing your tooth pain, don't hesitate to contact Horsham Dental Elements via their website or by phone at 215-672-6666.