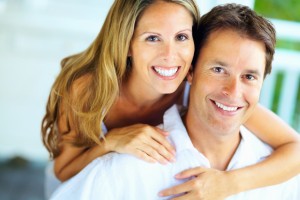 I have a question. If you had to grade your teeth from 1-10 right now, what score would they get? If it's anything less than a perfect 10, you deserve better — and you owe it to yourself to get the dazzling smile you want. Did you know that porcelain veneers can solve a number of dental issues? Keep reading to learn more about how this fantastic cosmetic solution works, and how you can benefit from porcelain veneers in Horsham today.
Porcelain Veneers Help Horsham's Smiles Sparkle
When cosmetic imperfections mar the appearance of a smile, porcelain veneers come to the rescue. They work for a variety of issues, including:
Stained or discolored teeth. For a smile that's been unresponsive to teeth whitening, or when treatments just don't provide the results you want, porcelain veneers are an excellent solution. And because porcelain never stains, we like to think of them as permanent teeth whiteners, too.

Gapped, crooked and misaligned teeth. If you're an adult with orthodontic problems, you know that metal braces and other straightening treatments are embarrassing and can take a long time. You can fix the small issues with the alignment of your teeth with porcelain veneers — in a fraction of the time.

Chipped, broken or cracked teeth. If small chips, breaks or cracks are taking a toll on your smile confidence, you can correct them and smile beautifully again with porcelain veneers.
Porcelain veneers are an excellent option for a number of dental issues, and what's even better is they are completed in just two visits to Horsham Dental Elements.
Porcelain Veneers: How They Work
Porcelain veneers are ultra-thin tooth coverings made of porcelain, and they're placed directly over the damaged tooth to restore or enhance its shape, color or alignment.
To fit you with your veneers, Dr. Henkel will first examine your mouth and, after a thorough discussion about your smile goals, he'll put together your unique treatment plan. In this initial appointment, it's important that you thoroughly communicate your desires with porcelain veneers — it can help to bring in photos of what you do and don't want your smile to look like.
After your initial appointment, your porcelain veneers will be created in our trusted lab. You'll come back to Dr. Henkel's office once they're ready for secure placement. That's when the magic happens: your porcelain veneers are guaranteed to transform your smile into one you'll love to flaunt.
Schedule Your Consultation for Porcelain Veneers in Philadelphia
If you're interested in learning how porcelain veneers can help you achieve your smile goals, don't wait another day to contact us for your consultation with Dr. Henkel, the cosmetic dentist our neighbors trust. You deserve a smile you feel great about — and that means you deserve dental veneers in Horsham. Call us today!