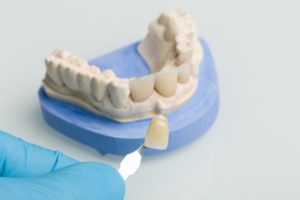 As you're getting ready to enjoy a fun night out with your friends, you catch a glimpse of your misaligned, crooked, and stained teeth in the mirror. In just a split second, your self-esteem crashes and you start to doubt whether you even want to go out anymore. Your smile shouldn't keep you from forming new connections and doing what you love, but you're not sure there's a single treatment that could fix the variety of cosmetic imperfections in your mouth. Porcelain veneers can improve and conceal practically all of your issues with your smile! Read on to learn how you can boost your confidence and make your grin one of your new favorite traits.
What are Porcelain Veneers?
Whether you need a single tooth fixed, or multiple, porcelain veneers are the thin, durable shells that can do it all. They're custom crafted and bonded to the visible portion of your teeth to conceal a variety of imperfections. They can alter the color, shape, and size of your teeth to make them more symmetrical.
What Kinds of Problems Do They Fix?
Patients often opt for porcelain veneers because they're one of the few cosmetic procedures that can practically do it all. These shells allow you to have a seamless smile that you won't want to stop showing off by fixing a variety of issues such as:
Severely discolored teeth that can't be fixed with professional teeth whitening.
Worn-down teeth.
Chipped, broken, cracked, and fractured teeth.
Misaligned and uneven teeth.
Teeth that are irregularly shaped.
Gaps between teeth.
What are the Benefits?
These durable, strong shells that refresh your smile have a laundry list of benefits to offer patients. Because they're made of porcelain, they're able to reflect light almost identically to the way your natural enamel does, so they are practically indistinguishable from the rest of your teeth. Porcelain is also a gentle material on your gums, so you won't have to worry about any allergic reactions or severe discomfort.
Porcelain isn't as porous as your teeth, so your veneers are stain-resistant and can stay bright for years when they're properly cared for. You can also reduce your consumption of stain-causing foods and beverages to keep them whiter for longer.
What's the Process of Getting Veneers?
The process of porcelain veneers is relatively straight forward and can be completed in just three appointments with your cosmetic dentist. The first one will be a consultation where they'll discuss any questions you may have. During the second visit, your dentist will prepare your teeth to receive the veneers by removing a small amount of your natural enamel, so the shells lay flush with the rest of your teeth for a seamless smile. Once your custom veneers are crafted, you'll go in for your third visit to have them bonded to your natural teeth.
You don't have to just dream about an improved smile anymore! Porcelain veneers can help lift your self-confidence and give you the motivation you need to get out there and do everything you enjoy. Take the first step by scheduling a consultation today!
About the Author
Dr. Gary Henkel has been providing his community of Horsham with beautiful and improved smiles since 1981. He has also completed a residency where he had the opportunity to focus on treating patients with physical and mental disabilities and provide them the care they need while making them feel comfortable. He also continues his education so he can keep up to date with the latest advancements in his field and provide everyone that walks through his doors with the high-quality treatment they deserve. For questions or to schedule a consultation for porcelain veneers, visit Horsham Dental Elements' website or contact 215-672-6666.