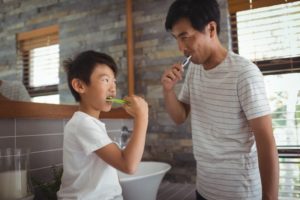 In 2009, dental hygienists came together from around the nation to dub October as National Dental Hygiene Month. They believed that patients and professionals needed a time to dedicate themselves to learning about the importance of their oral hygiene routine and how they can make it more efficient and effective. Maintaining fresh and healthy teeth and gums isn't limited to visiting your dentist for teeth cleanings and dental checkups, it also requires effort at home. Read on for some ways you can celebrate National Dental Hygiene Month and make your local hygienist proud.
Maintaining An Oral Hygiene Routine
The American Dental Association recommends doing some basic tasks every day to keep your teeth and gums healthy. Clinical research has shown that with the proper techniques, patients can keep their natural teeth healthier for longer. To celebrate your mouth, be sure to:
Floss every day. If you have difficulty maneuvering regular dental floss effectively, try using floss picks or even a water flosser. Both of these can make the process easier, faster, and more effective.
Brush twice every day for at least two minutes. Brushing your teeth in the morning and at night doesn't just help you avoid bad breath. It also reduces your risk of developing oral health problems like gum disease. It's best to use a soft-bristled brush and fluoride toothpaste.
Rinse with antibacterial mouthwash daily. Hygienists are often surprised to learn that their patients believe rinsing with mouthwash is optional to maintain a healthy mouth. Rinsing after you brush and floss will freshen your breath and keep your mouth clean.
Using the Right Oral Health Tools
Every mouth is different, which is the reason that it's so overwhelming to look down your local oral hygiene aisle at the massive selection of products available to you. If you're left wondering what toothbrush, toothpaste, and mouthwash is the best choice for you, it's a good idea to ask your dental hygienist for recommendations at your next checkup and teeth cleaning. Every year, new products get released, like water flossers and sonic toothbrushes. These can be great tools to add to your bathroom cache if you have difficulty effectively clearing plaque from below your gumline. Your dental professionals can let you know if they're a good investment.
The Importance of Dental Hygiene Month
No one wants bad breath or lingering oral health problems, which is why most people make a decent effort to take care of their pearly whites. Keeping your oral health on track and reigniting your passion about brushing and flossing in the month of October not only celebrates your dental hygienists, but also keeps your mouth happy. When you celebrate by tweaking your oral hygiene routine and visiting your dentist for a checkup and cleaning, you can rest assured that you'll be able to enjoy your mouth for decades to come.
About the Author
Dr. Gary Henkel has been providing his community of Philadelphia, Horsham, and surrounding areas with high-quality dental care since 1981. He completed a two-year general practice residency, where he was able to gain experience working with patients who are physically or mentally challenged and medically compromised. He believes in providing the best preventive dental care, so his patients don't have to worry about the small problems turning into large ones. For questions or to schedule a routine checkup and cleaning, visit Horsham Dental Elements' website or call 215-672-6666.