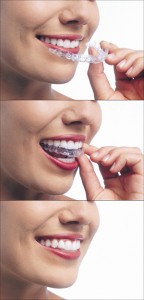 Are you unhappy with your crooked teeth? Do you know you need braces but don't want everyone else to know as well? It's time to quit avoiding the problem, because at Horsham Dental Elements we've got a great solution for you—clear braces.
We offer clear braces from Invisalign. Invisalign works by using a series of clear aligner trays to gradually straighten your teeth. They usually work faster than traditional patients. Dr. Henkel can help you learn more about this great product and what you should expect.
One of the biggest advantages of Invisalign versus traditional braces is that they're clear, removable trays. Not only are they practically invisible to start with, you can also easily remove them for special occasions, pictures, and for cleaning. Every few weeks you'll trade out aligner trays as your teeth get straighter and straighter—all without any metal or wires!
Come visit us and get started today towards a straighter smile! Invisalign could be just the solution you have been waiting for. See how easy it can be to get the straight teeth you've always wanted.
Call our Horsham or Philadelphia office today to schedule your appointment.  Horsham Dental Elements provides quality and experienced care to our patients from Montgomery, Philadelphia, Horsham, Bucks County, and beyond.