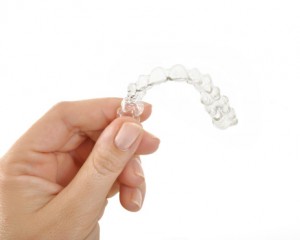 Invisalign treatment is within your grasp, all you need to do is take hold of it. If you're new to the teeth-straightening world, or have never had to deal with misalignment issues in the past, Invisalign is the latest and greatest in straightening technology. What used to take multiple years to accomplish can now be taken care of in less than half the time. In the past, metal braces have been the dominant procedure when it came to correcting a smile's alignment issues. Many years and countless hours of research and testing later, Invisalign is the futuristic way to straighten teeth. The best part? It can all be done invisibly to where nobody notices you straightening your teeth. How cool is that? True, braces can offer the same type of treatment, but it's more painful and you won't see the final results for an average treatment duration of five years. That's too long to wait for real results. You've got a life to live and that shouldn't involve sporting metal braces on your teeth. You're older and need treatment that works. When you visit Horsham Dental Elements in our Philadelphia, PA and Horsham, PA, you'll see firsthand just how beneficial Invisalign treatment is for your smile. For the best straightening treatment featuring Invisalign, Philadelphia residents are urged to check it out for themselves!

Invisalign Treatment Can Do Wonders for Your Smile
There's so much to love about Invisalign. If it isn't the clear aligners that will make you smile, it's the ease with which treatment is offered. Instead of painful metal brackets that painfully move your teeth into place, Invisalign does the same, only with A LOT less discomfort. A mouth without pain is a happy mouth, and there's nothing we like treating more than a happy smile.
Do you like food? We love food. The downfall of metal braces is the fact that you're limited to what you can and can't eat. Loose food can get caught in brackets and cause all sorts of problems. With Invisalign, you're free to eat whatever you'd like (within reason – we're looking at you, sugary-treat lovers) without any problems. You can freely remove the device from your mouth whenever you please, just be sure to keep it in for at least 22 hours out of the day. The beauty of this treatment is it is completely under your control. You choose when you want to wear your aligners and how fast you'll see results depending on how often you're wearing your aligners.
Schedule Your Invisalign Appointment Today
Our Philadelphia, PA and Horsham, PA offices specialize in offering this fantastic straightening treatment. Join the millions of other patients who have chosen Invisalign to straighten their smile. Choose Invisalign, Horsham, Dresher, Springfield and Hatboro residents!