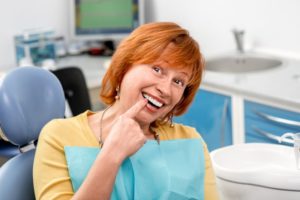 When it comes to replacing missing teeth, there's no better solution than dental implants. Patients who choose this tooth replacement option receive greater stability and function, while also having increased confidence in knowing their smile will last for decades or a lifetime with proper care and maintenance. If you recently replaced your missing teeth, here are 5 ways you can care for your implants and extend the life of your smile.
Regular Brushing and Flossing
One of the great aspects of dental implants is that they are low maintenance. This makes it easy to adhere to your regular oral hygiene routine each morning and night. To keep them clean, you'll need to brush and floss your teeth after every meal to prevent an infection from developing. Although implants do not develop decay, it's important that you rinse with an antiseptic mouthwash to eliminate any bacteria or food particles you missed with brushing and flossing.
Bacteria that is allowed to grow around the gum line can result in periodontal disease and possible tooth loss. This can affect your dental implant because of the potential for bone loss when battling gum disease.
Keep Your Six-Month Dental Appointments
Not only does your dentist want to provide you with a thorough tooth cleaning each month, but your regular dental appointments are a time when he can check your dental implants to ensure they're in good condition. It is important to schedule regular cleanings at Horsham Dental Elements to prevent infection. This level of preventive care is part of a normal checkup, so don't skip or put off your appointments.
Kick the Habit if You Smoke
One of the quickest ways to experience dental implant failure is by smoking. This bad habit weakens your immune system and, in turn, makes it difficult for your implant to properly fuse to the bone. When this process of osseointegration does not occur, the result is implant failure.
Avoid Hard Foods
This new restoration will act just like a normal tooth, but it's important to remember that certain habits and foods can damage your teeth, including your dental implant. Chewing on ice and eating hard foods can cause your teeth to become cracked, and if your crown becomes damaged, it will require your dentist to perform additional restorative work, effectively shortening the lifespan of your implant.
Limit Your Sugar Intake
As we mentioned before, your dental implant cannot decay, but the teeth around it can. By limiting the amount of your sugar you consume, you are preventing tooth decay from developing. Sugar left on teeth can cause bacteria to feed and plaque to build. It can damage your bone structure and result in implant failure.
When choosing to replace your missing teeth, you are making an investment in your smile and your oral health. Make sure you take the appropriate steps to extend the life of your restorations and get the most out of your dental implants.
About the Author
Dr. Gary Henkel has been helping patients achieve healthier smiles since 1981. Attending Wayne State University, he graduated in 1974 with a bachelor's degree in Biology. He then went on to the University of Detroit Mercy School of Dentistry and earned his DDS degree. After finishing his residency, Dr. Henkel completed the Maxi Course in implant dentistry, ultimately starting his career as an implant dentist. He understands the difficulties that come with missing teeth, which is why he and his team will work to restore your smile and give you back the confidence you deserve. To learn more, contact us at (215) 672-6666.