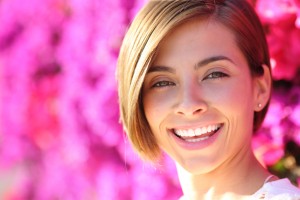 Your smile says a lot about you. After all, it is the first thing people notice about you when you meet them. A beautiful smile allows you to connect with people and can often take you to the next level in your career and personal relationships. How do feel about your smile? Do you smile freely and often, or are there things about your smile that you would like to change? Does your smile make you feel embarrassed or self-conscious? Did you know that cosmetic dentistry offers a number of different procedures designed to repair, restore and enhance your smile? You may not have been born with a perfect smile; however, your cosmetic dentist in Horsham can help you achieve the smile you've always dreamed of.
What is Cosmetic Dentistry?
Any procedure that is designed to enhance or improve the appearance of your smile is considered a cosmetic procedure. This includes teeth whitening, porcelain veneers or crowns, Invisalign, and even dental implants. There are many situations however, in which these treatments are also restoring your oral health. For example, if you're missing one or more teeth, dental implants are by far the best option to replace your missing teeth. Replacing a missing tooth not only improves the appearance of your smile, but also restores and protects the integrity of your oral health.
At Horsham Dental Elements, Dr. Gary Henkel has been providing top quality cosmetic services to his patients for over thirty years at two convenient Philadelphia locations. Dr. Henkel has had thousands of hours of advanced training in implant dentistry and other cosmetic procedures. He actually spends a great deal of time educating other doctors on how to perform these procedures. When you work with Dr. Henkel and the team at Horsham Dental Elements, you can rest assured that you're receiving the best dental care the industry has to offer. Besides preventative care, Dr. Henkel also offers:
Invisalign: which is designed to align crooked teeth in less time than traditional orthodontics.
Porcelain Veneers and Crowns: these natural and durable restorations are designed to repair chipped, fractured and discolored teeth.
Dental Implants: these are the best options for replacing a missing tooth and restoring form and function to your smile. Dr. Henkel can guide you through the entire implant process from start to finish.
Teeth Whitening: this is the quickest and most cost effective way to give your smile and instant boost. We offer both in-office and take-home whitening systems at Horsham Dental Elements.
If you feel embarrassed about your smile, or have been thinking about improving the appearance of your teeth, contact the premiere cosmetic dentist in Philadelphia, Dr. Gary Henkel, to learn how he can help you achieve your goals. Don't let your smile hold you back any longer. Call us today to schedule your consultation!