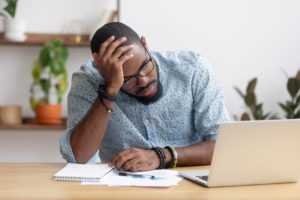 With all the serious changes the current COVID-19 pandemic has had on society, it's completely natural to feel somewhat stressed or anxious. This feeling can help us stay alert and cautious in uncertain situations. However, stress can also negatively influence our physical, mental, and oral health. Your local Horsham dentist explains five bad dental habits you may develop while stressed and how to protect your smile in quarantine.
1.) Using Too Much Force While Toothbrushing
Do you pay attention to how much force you use when brushing your teeth? If you're anxious, you're much more likely to brush over-aggressively, which can scratch away your enamel and lead to sensitive, weakened teeth that are more prone to cavities.
Always use a soft-bristled toothbrush approved by the American dental Association. To remind yourself to brush with less force, try holding your toothbrush with your fingers instead of clenched in your fist.
2.) Grinding Your Teeth in Your Sleep
Grinding your teeth in your sleep is a condition known as bruxism. It can be difficult to diagnose since it primarily occurs when you're asleep, but leaving it untreated can lead to gum damage and fractured teeth. Common symptoms include waking up with headaches and jaw soreness.
Try placing a warm compress on your jaw or eating a crunchy fruit or vegetable before going to bed to help relax the muscles. Once quarantine orders have lifted, consider seeing your dentist for a custom nightguard.
3.) Chewing on Hard Objects
Many of us chew on hard objects when we're anxious or nervous. However, constant pressure from items like pen caps, ice cubes, and fingernails wears away at your teeth and can suddenly chip or crack them.
When you feel the need to chew, try eating a crunchy apple or chewing a piece of sugarless gum instead.
4.) Snacking Throughout the Day
While stuck at home during the COVID-19 pandemic, it may be easier than ever to mindlessly graze or stress eat throughout the day. However, this provides a steady stream of fuel for cavity-causing bacteria in your mouth.
Do your best to limit eating to mealtimes only. If this proves to be too difficult, choose sugar-free snacking options like cheese, turkey, or carrots, and drink plenty of water all day long.
5.) Skipping Your Daily Dental Routine
Since the COVID-19 pandemic has drastically changed our day-to-day lives, health experts recommend practicing healthy routines to help retain a sense of normalcy. Even a habit as simple as brushing your teeth every morning and night can be enough to help keep your mind a little more at ease as you clean your smile.
If you avoid these bad habits and follow other stress-management tips from the Centers for Disease Control and Prevention, you can look forward to leaving quarantine with a happy, healthy smile!
About the Practice
To slow the spread of COVID-19 and keep our community safe, Philadelphia Mayor Jim Kenney and Health Commissioner Dr. Thomas A. Farley have issued a stay-at-home order. At Horsham Dental Elements, your health always has been and will continue to be our top priority, so we have made the decision to postpone any non-emergency dental care until these orders have been lifted. If you have any questions or concerns or need emergency dental care, please contact us via our website or at (215) 672-6666.