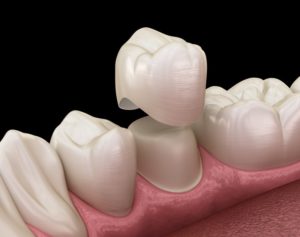 Getting a crown is one of the most common restorative dental procedures. In fact, according to the American College of Prosthodontics, approximately 2.3 million implant-retained crowns alone were placed in a year. They're versatile and can be used to restore as well as aesthetically improve your smile. Another plus is that it's a virtually painless procedure, so you won't have to worry about significant discomfort afterward. If you have a severe toothache or other symptoms, you may need the procedure. Read on to learn 3 ways your tooth could be causing you discomfort and how a dental crown could help.
Tooth Decay Or Severe Cavity
When your natural enamel erodes due to harmful oral bacteria producing acid that eats away at it, it could leave your pearly whites susceptible to decay and cavities. When these problems impact your teeth, they could weaken the structure and result in tooth loss when they're left un-addressed. Plus, when nothing is there to protect your tooth, it can leave it vulnerable to harmful bacteria and infection can spread to surrounding teeth.
Your dentist may suggest getting a dental crown to protect your decaying or cavity-ridden tooth from additional bacteria attacking it. This procedure can prevent you from needing a tooth extraction too. If you have a large cavity that can't be treated with a simple filling, and there isn't much of your natural tooth left over, a crown can protect and restore its natural function and strength. You'll be grateful you were able to avoid an invasive procedure like extraction and keep your natural tooth intact.
Post-Root Canal Therapy
When your tooth becomes infected due to harmful oral bacteria, your dentist will most likely suggest a root canal in order to ease your discomfort and save your tooth. During this procedure, they'll remove the affected pulp from your tooth and disinfect it. Afterward, they'll most likely recommend that you get a crown to prevent any further damage and help strengthen and repair its function. With this restoration, you can use your tooth just like you normally would, without discomfort.
Chipped Or A Cracked Tooth
If you've experienced any kind of dental trauma that has resulted in a chipped or cracked tooth, even if it doesn't cause you pain or discomfort, you may need a dental crown. These restorations help prevent further decay and damage by shielding your tooth's root from harmful oral bacteria. When left untreated, the crack can even spread and break your tooth in two. Plus, crowns help ease your pain and restore your tooth so you can use it like you normally would.
If you're experiencing oral discomfort or notice that your tooth is cracked, chipped, or fractured, let your dentist know immediately. When a damaged tooth is left untreated, it's more likely that it'll need to be extracted to prevent future oral health problems. With this procedure being virtually painless and easy, you won't have to stress about it!
About the Author
Dr. Gary Henkel has been serving his community of Philadelphia and other surrounding areas for over 3 decades. He understands that everybody's needs are different, and with experience treating physically, mentally, and medically compromised patients, he's able to help any person that walks through his doors. As an active member of 11 different professional organizations, he keeps up with the latest advancements in his field so he can provide his patients with the highest quality of care that they deserve. For questions or to schedule an appointment, visit Horsham Dental Elements' website or contact 215-672-6666.